Media and Press
January 2, 2017
La nouvelle chocolaterie Aschenti Cocoa, sur l'avenue Corydon, souhaite faire redécouvrir le vrai gout du chocolat au public.
---
December 27, 2016
Aschenti Cocoa, the artisan chocolate factory promoting Cameroonian cocoa in Canada
---
December 27, 2016
Aschenti Cocoa, la chocolaterie artisanale qui fait la promotion du cacao camerounais au Canada
---
December 19, 2016
Winnipeg Free Press ‪Hit the streets of Winnipeg for unique Christmas treats including our own Aschenti Cocoa
---
December 22, 2016
Le 22 décembre 2016 Entrevue audio avec Pamela Kazekare sur les origines d'Aschenti Cocoa
---
December 22, 2016
The Sou'Wester
Chocolate that's good for the body and soul
Aschenti Cocoa offering simple, traditional chocolat
The chocolate produced at Aschenti begins with cacao sustainably grown and harvested in Cameroon (employing about 20 people during harvest). The beans are then fermented in a wooden crate covered with banana leaves and dried. After that, they are shipped to Winnipeg where they are roasted, winnowed, ground, tempered and moulded by the Mekohs.
---
December 23, 2016
Le Journal du Cameroun
Christelle et Christian Mekoh ont ouvert une entreprise spécialisée dans la fabrication artisanale de chocolat à Winnipeg le 17 décembre sur l'avenue Corydon. La matière première est issue du Cameroun.
---
December 17, 2016
African couple touts pure, artisanal product The store's layout concept is open, displaying the kitchen area where the chocolate is made. Christelle Mekoh says the store's design reflects the brand's "no secrets" policy when it comes to the ingredients in their organic chocolate.
---
December 16, 2016
CBC Noon with Janet Stewart.
---
December 22, 2016
French CBC TV News (en français) Aschenti Cocoa, from bean to bar
---
December 22, 2016
Weekends don't count unless you spend them doing something completely pointless. Les copropriétaires de la chocolaterie Aschenti Cocoa, Christelle et Christian Mekoh, souhaitent faire découvrir l'histoire et les diverses étapes de fabrications du chocolat à leur clientèle. « On veut que les gens vivent une expérience, qu'ils découvrent le chocolat, le chocolat pur », indique Christelle Mekoh.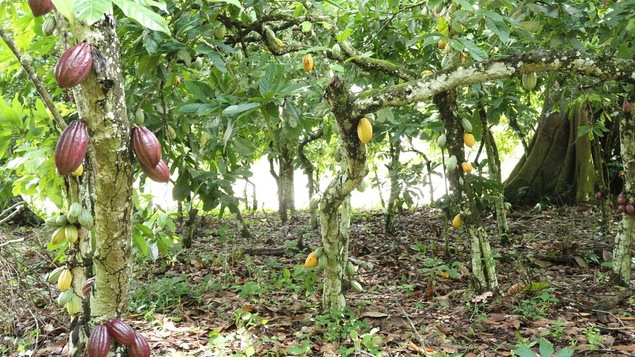 ---
December 22, 2016
Christian Mekoh, co-founder of Aschenti Cocoa shows behind the scene of our new store: Manitoba's bean to bar located on Corydon Avenue in Winnipeg (en français).
--
Un nouveau magasin de chocolat a ouvert ses portes sur l'avenue Corydon à Winnipeg. La particularité d'Aschenti Cocoa, c'est d'offrir un chocolat fait de façon artisanale, et de faire découvrir le processus de fabrication aux visiteurs. Christian Mekoh, son cofondateur nous sert de guide à l'arrière-boutique.
Get in Touch

(204) 452-7770‬

info (at) aschenti.com

782 Corydon Avenue, Winnipeg